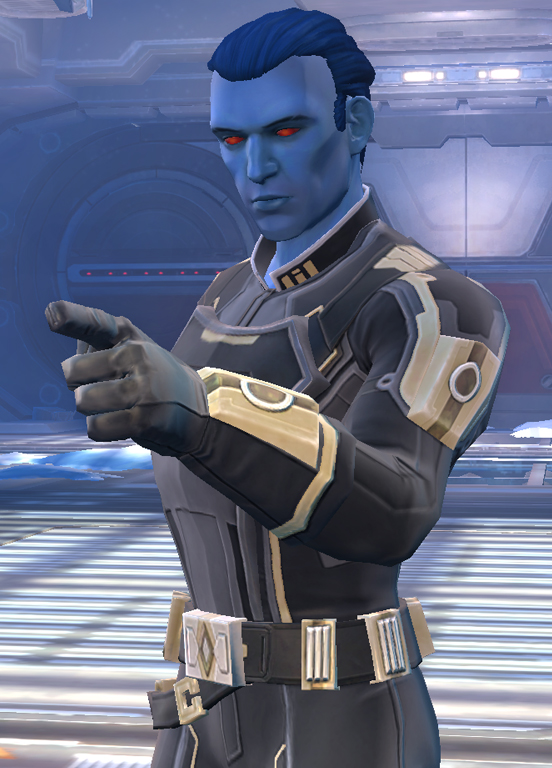 Character Name: Csapl'Aro'nuruodo "Laron"

Character Age: 62

Gender: Male

Race: Chiss

Faction: Galactic Alliance

Career in faction: Began as crew member of a GADF cruiser after Vong war and worked his way up to Rear Admiral through engagements with pirates & Imperials.

Rank: Rear Admiral

Personal Ship: Modified B-Wing X-Zero (will detail later)

Personal Equipment: 1x main blaster, 1x back-up blaster, 1x comlink, 1x datapad

Personality: Calculating & dedicated to his duty. However personality has taken on slight human traits due to close work w/ humans. He also has a tendency to study deeply various subjects that assist him to knowing the limits of his military forces. IE shield schematics, hyperspace travel, weapons technology, etc.

Bio: Born of the Csapla family, he was destined to assist the Ruling Family in redistributing resources for the entire Ascendancy. Fortunately fate intervened. While traveling to one of the outlier colonies the ship carrying him came under attack and he was forced to help fight them off. After that battle he entered military service as part of the Chiss Expansionary Defense Fleet. His skill in battle not only allowed him to rise in rank but also allowed him to become a member of the Nuruodo Family. Three years after However, as he rose through the ranks, he saw that the Ascendancy was flawed in it's rigidness. Laron came to believe that such rigidness would lead to the stagnation and eventual extinction of his race. Unfortunately he was merely one being among billions and could either change his people's ways nor gather the power base needed to invoke such change. As such he left for the known galaxy when the Yuuzhan Vong were defeated, just as Thrawn had done. But where Thrawn saw potential in the Empire, Laron saw potential in the Galactic Alliance. He saw the diversity and open-minded thinking that he believed could one day save his people. Laron started off again as an officer and allowed himself to remain in the outskirts of the galaxy, avoiding major battles. Not because he felt incapable, but because he wished to avoid detection. However, he soon saw various opportunities in rising through the ranks and eventually became the captain of a small cruiser five years after the Vong War. In the years after, he quickly rose up to the rank of rear admiral. While he does follow the orders he is given, he believes that the GADF could stand to be a bit more ruthless with their enemies. Laron is a capable commander who's experience in both military situations and resource distribution allows him strategic insight that benefit's him greatly.